Caveat lector: There are quite a few images of hot Turkish and Greek men sprinkled across this travel blog post. I am not responsible for any drooling.
Turkey and Greece are remarkably beautiful and pocket-friendly destinations. And being only an hour or two away from each other by flight, they can be easily accommodated into one travel plan.
I always wanted to visit the two ever since I saw the Greek stud that is John Stamos on Full House and "Tera Hone Laga Hoon" music video which was shot in Istanbul 😛
Many of my trips abroad (implying: outside of India and US) have either been study abroad or with family. As awesome as they all have been, I was also fortunate to take a trip with a close friend to 3 wonderful cities in a span of 9 days – Istanbul, Athens and Mykonos island. The island was, by far, my favorite spot but each place had its own charm and excitement.
I was incredibly inspired by the movie Queen that released on Women's Day in India and my trip to turkey and Greece was no less of a Queen movie adventure. I had my own free-spirited Rani moments and I hope this post inspires you to experience the same on your own someday.
1) "Hello there pretty lady…."
Day 3 of our adventure, we come across this gentleman strolling near Haghia Sophia. For someone like me, who typically has at least one pimple and caterpillar shaped eyebrows, I find it hard to digest any compliments from strangers. So when this suave gentleman holds my hand, kisses it, and asks to walk with me, my first reaction is to whip my hair back and forth in self-defense. But he merely continued his flirtatious praises and walked us to his lavish store in the heart of Istanbul. Just like the charming Italian man convinces Rani to eat at his restaurant, this man encouraged us to visit his Art Gallery. Granted the store had beautiful merchandise consisting of authentic Turkish ornaments, carpets, clothing and souvenirs, it was mostly out of our budget.
He was a bit sad that we didn't purchase anything and asked if he could join us to our next tourist stop in the City.
I said "No" and also added, "Your store is over-priced." 😛
Several days later, we found the same man flirting with other women. Here is photo of the man named Sedir. So ladies visiting Istanbul in the future — be prepared for his random compliments 🙂
2) What is a Trip without some Tadka?
Athens has stunning sights but most stunning has been its graffiti. We came across train strikes and demonstrations and took pics of banks lest they become museums in good time.
In the Greek capital, my friend and I decided to try some authentic Greek food. Subtlety of spices is not inherent in the taste buds of any person who has grown up eating Indian food and naturally, we needed hot sauce on our bland spinach pie.
Our waiter was not happy when we needed to add extra flavor to the dish. In fact, we were having so much Indian food withdrawal that we dined at a wonderful North Indian restaurant ('Indian Masala') near the Acropolis!
3) Socializing with the Locals

Turkey and Greece are home to beautiful men and women and my friend and I couldn't help admiring them for their features and losing our self-esteem in the process. In Athens, I gained some courage to meet the local police, who were mighty handsome!
(Insert "Arrest me officer, I have been a bad, bad girl.") heheh
4) Vijaylakshmi Moment
My friend and I decided to check out the bar scene in Istanbul late one night. Some of the best little drinking spots and eateries are housed in Taksim Square. The media has portrayed Taksim as a hotbed of protests but it was actually a great area to mingle with the locals.
We landed at one of the best rooftops – Club 360 Istanbul. It is a tad pricey but worth it for the view overlooking Bosphorus River.
Insert Poo line about my dress : Zyada lamba ho gaya na? 😉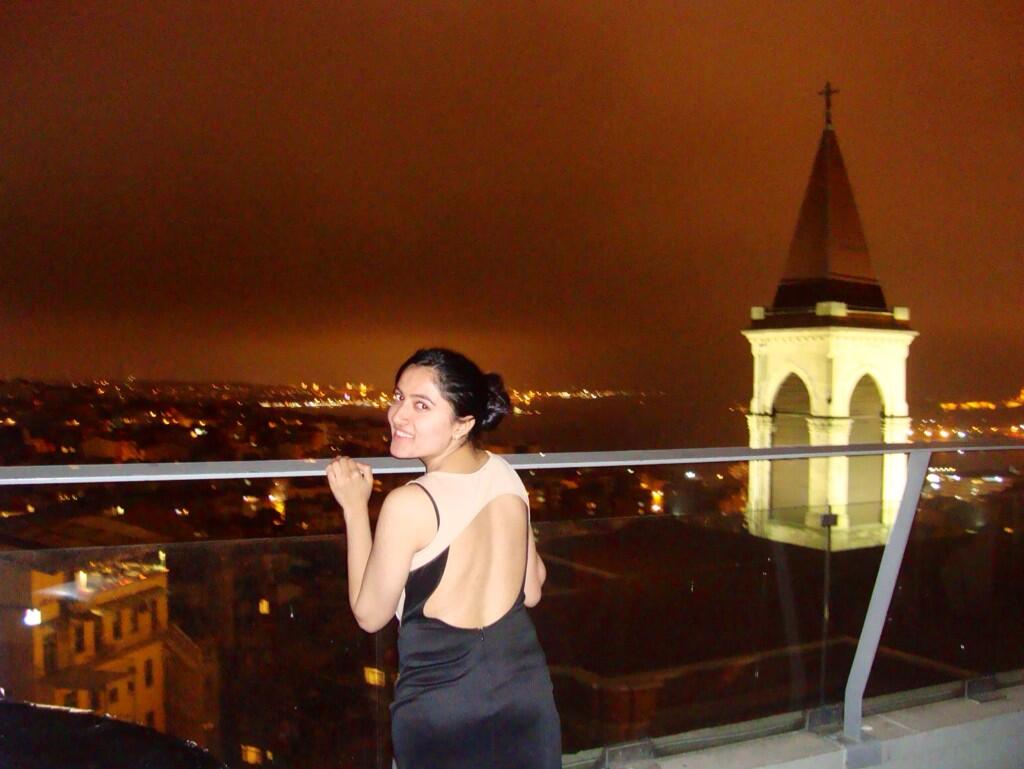 At this club, we witnessed an amazing acrobatic dance by a young lady. She was sensual and mesmerized the entire audience. She was truly the svelte Vijaylakshmi of our trip.
5) Spontaneous Rock Concert
On our last day in Athens, we chanced upon a University concert with some amazing, live performances. With electrifying vocals of the band leads (who were women though most of their lyrics were in Greek) and alcohol easily consumed in the open, it was a memorable night.
Here is a poster from the concert.


So folks, I hope you, too, are encouraged to gobble some Greece and Turkey experiences on your own.
Bon appetit and bon voyage! 🙂
p.s. Below are some of my favorite moments from the trip –
Melting face cheeks pose in front of Haghia Sophia, Istanbul
The clown-like entertainer who held my hand…
(We make an ideal Amitabh-Jaya couple hehe)
Catching a glimpse of the beautiful sunset.
Driving around like the crazy hooligans we are on Mykonos island 🙂
The closest I came to interacting with an attractive specimen of the opposite gender 😉
The visit to Paradise Beach, famous for permitting nudity 😛
The gorgeous scenery beckoning us during our drive around the island.
The night lights and peaceful chanting near the Blue (Sultanahmet) Mosque.
And last but not least, attempting to be a Laila to find a local Greek man who would suffice as the hot Majnu/Hrithik Roshan 😉